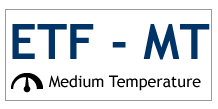 ETF-MT is a designed piping system for Hot or Chilled water, Fuel Oil or Process Piping. ETF-MT pre-insulated pipe shall consist of the following components:
Carrier Pipe
Steel ASTM A-106, ASTM A-53, Grade B, Import or Domestic in schedule 40 or 80 as required by service. Other piping materials such as PVC, Stainless, Copper, HDPE or Ductile Iron may be specified by the engineer.
Insulation
Polyurethane foam with the following minimum characteristics:
K Factor of .15, Density 2.8 PCF, closed cell content 90-95% in conformance with ASTM C-591 completely filling the annular space between carrier pipe and jacket.
Jacketing Material
High impact seamless polyvinyl chloride (PVC) class 12454 B compound conforming to ASTM 1784 Type 1, Grade 1. High Density Polyethylene (HDPE) casing Type III, Category 5, Class C conforming to ASTM D-1248. Jacket diameter and wall thickness as required by service. Other jackets such as Spiral wound Aluminum or Spiral wound Galvanized may be specified by engineer.
Fittings
All fittings are contractor supplied, field welded and insulated using Energy Task Force fitting insulation kits. Fitting kits consist of hard shell mitered PVC or HDPE, polyurethane foam insulation and pressure sensitive polyethylene tape or Heat Shrink. At engineer's option, fittings may be pre-fabricated and pre-insulated by Energy Task Force.
Underground systems shall be buried in a trench of not less than 24 inches deeper than the top of the pipe jacket and not less than 18″ wider than the combined O.D. of all piping systems. Back-fill should be tamped compactly in place. No rock shall be used in the first foot of back-fill. Twenty-four (24) inches from top of jacket to grade of compacted fill will meet H-20 highway loading.
Expansion/contraction will be accomplished utilizing standard Energy Task Force expansion loops and anchors.
Engineering Services
Complete Engineered designed Auto Cad Drawings, Stress Analysis and Engineered Stamped drawings are available.
Field service by a certified distributor's representative is available.