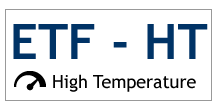 ETF-HT pre-insulated pipe systems as distributed by Energy Task Force, LLC will be supplied for all underground and above ground high temperature lines not exceeding 366F at 150 PSI.
Carrier Pipe
Sch 40 carbon steel to ASTM A-53 typically for supply
Sch 80 carbon steel to ASTM A-53 typically for return Condensate
Inner Layer
Calcium Cilicate insulation having a K factor of .45 at 300F or Glass foam insulation having K Factor of .55 at 366F is factory applied to the carrier pipe so that all joints butt together.
Polyurethane insulation is factory applied to completely fill the annular space between the foam glass inner layer of insulation and the jacket. The polyurethane insulation shall be 90-95% closed cell, 2.8 PCF density with a K Factor 0.15 at 250F mean temperature. The polyurethane shall be fully bonded to the inner layer insulation and the jacket.
Jacketing Material
High density polyethylene (HDPE)
End Seals
Pre-insulated pipe ends are coated with a high temperature material to prevent moisture penetration during shipping and storage.
Fittings
All fittings are either factory pre-fabricated and pre-insulated or field insulated as per specification. Field joints will be made up by the contractor utilizing materials and methods designed by Energy Task Force, LLC.
Backfill
ETF-HT systems shall be buried in a trench of not less than 24 inches deeper than the top of the pipe jacket and not less than 18″ wider than the combined O.D. of all piping systems. Backfill should be tamped compactly in place. No rock shall be used in the first foot of backfill. Twenty-four (24) inches from jacket to grade of compacted fill will meet H-20 highway loadings.
| | | | |
| --- | --- | --- | --- |
| Pipe Size | Nominal Foam Glass | Nominal Urethane | Nominal Jacket |
| 1 | 1.0″ | 1.48″ | 6.63 |
| 1-1/4 | 1.0″ | 1.31″ | 6.63 |
| 1-1/2 | 1.0″ | 1.19″ | 6.63 |
| 2 | 1.5″ | 1.17″ | 8.00 |
| 2-1/2 | 1.5″ | 1.00″ | 8.00 |
| 3 | 1.5″ | 1.61″ | 10.00 |
| 4 | 1.5″ | 1.11″ | 10.00 |
| 5 | 1.5″ | 1.80″ | 12.43 |
| 6 | 1.5″ | 1.27″ | 12.43 |
| 8 | 1.5″ | 1.09″ | 14.06 |
| 10 | 2.0″ | 1.43″ | 17.83 |
| 12 | 2.0″ | 1.40″ | 19.80 |
ETF HT Documents